Al-Amin are here for all your Water heater requirements around your home or business
Call now on Tel: 020 7476 2153 or Mob: 07889 272430
At Al-Amin Electrical Contractors we offer a complete Water Heater Repair service. Whatever your requirements may be, we are more than happy to discuss your needs and requirements and offer you a solution to any problem you may have.
Water Heater Repair Services
Offer a large selection of Water Heaters, including Installation at a very competitive rate. We also offer a guarantee on each heater purchased.
We have the understanding, skill and experience to provide a comprehensive Maintenance & Repair service, always maintaining a high standard of customer satisfaction. We aim to give our clients complete peace of mind at all times.
Hot Water Heater Repair Near Me
What are the Benefits of Hiring AI- Amin as your Water Heater Expert?
Inside a residential complex, hotels, guest house, etc.  need for water heaters is the order of the day. Also, in factories, where the need for a water heater is enormous. Conventionally, inside a factory, we install water heaters in places which are generally out of sight. Since it is not seen every day there is a possibility of its going wrong without notice.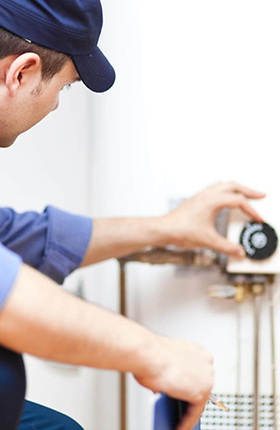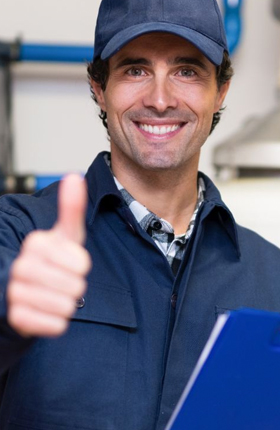 Whatever be the case, we must acknowledge the fact that an important appliance like water heaters are mostly left neglected in home and business alike.
When the water heater goes wrong in the industry the whole production line gets affected. When it happens in-home, we become restless, start pointing fingers on one another until we are compelled to have a cold shower and run for office. Typical water heaters have a life span of 10-15 years. Knowing it we become complacent.  When it goes wrong suddenly its importance comes to our mind.
Considering above we agree that taking pro-active maintenance jobs on this important appliance is very essential. This will ensure its longevity. Generally, for maintenance, we quickly go for a common plumber who may be an experienced one. But, considering the risks involved, taking the help of a Water Heater Expert is of utmost importance. It is more so when a heater goes beyond repair and needs new installation.
Who to call for water heater repair
Now, let us analyze some of the benefits of hiring a Water Heater Expert.
Giving a Reliable Service
Sometimes we find that our water heater is taking longer time for heating or it is making some unwanted noise. In such a situation if we engage a general plumber to fix it then he/she may take a longer time to it, or sometimes they may cause more damage to the heater than it's repaired. Engaging a certified and experienced professional will detect the problems easily and fix it properly. Our confidence level on the job done will increase making us free from worry.
Tuning-Up the parts
An expert will systematically check-up the maintenance parts, doing adjustment where required, flushing the water tank, cleaning the electrical connections and other services as required. Such jobs will make the water heater to perform more efficiently and will enhance its life span. Checking and cleaning jobs will serve to reduce the power bill.
In addition to that regular maintenance by an expert will reduce risk of failure lowers the risk of failure. It reduces the cost of repair and keeps a check on power bills through regular cleaning of rust, checking connections, fuse box, switches, etc. This exercise will also reduce the rate of wear and tear. Ultimately it will also reduce maintenance cost. Tuning –up exercise carried out by an expert will ensure trouble-free operation.
Need of Expert for Installing a New Unit
When we plan to install a New Water Heater it is always advisable to take help of an Expert Professional for the job. When the heater is installed by an expert, he/she will give us important tit-bits which will ultimately help in enhancing the life-span of the heater. Such acts build trust in our mind. After expiry of guaranty/warranty period, it is also advisable to get the maintenance job done by the expert technician who installed the heater, this will generate mutual trust which will pay in terms of reliable service and bring down maintenance cost. Some of them may also offer discounts on maintenance jobs done on his/her installed water heaters. Moreover, being familiar with own installed water heater the concerned plumber will quickly detect problems and fix it professionally.
It is also important to note that a water heater is not simply an association of a tank and heating element(s). It involves the selection of a suitable place for its installation, related wiring, plumbing or fuel supplies depending upon individual requirements of an occupant. The issue is a complex mixture of planning, installing and maintain it. Hence, giving the job to a Water Heater Expert will reduce our worries for the uninterrupted supply of warm water and with comparatively lower price.
Safety First
Considering that water heater operates at 240 volts it is liable to give a lethal shock, especially when the tank is flooding, has constant water leakages and other such conditions.
Therefore, is always safe to leave maintenance jobs to an expert handler instead of giving it to an amateur technician or trying to fix it by ourselves. Tankless heaters also have the same concerns. Non-electric heaters such as those heated by natural gas may emit carbon monoxide, which is a poisonous gas. It may also involve leaking of flammable gases, which may cause a fire in a confined space. These are dangerous situations which will pause risk to members of our family, friends and relatives. Ensuring that our appliances are maintained properly by experts is a worthy investment.
Protect Your Warranty
Moreover, the warranty clause of a new heater may be voided if the installation is not done by an expert professional. Even if the accessories of the heater may or may not be included in the warranty, but when something goes wrong and the manufacturer finds that installation was not done by a licensed professional the warranty may be voided, this will add cost for buying a new heater along with an installation by an expert.
By calling an unlicensed and unqualified plumber and finding that the problem is not fixed properly will always raise agonies in our minds. Therefore, to lead a worry-free life and to protect our home it is always essential to call AI- Amin today.
For all your electrical services call us on 078 8927 2430
We are always happy to talk through your project and advise on any electrical problems.
Now, that you have a better idea whether you want to take the plunge and consider having your home or property rewired, give us a call. We can give you further advice tailored to your needs and requirements.