Emergency Electrician London
24 Hour Emergency Electricians in North London, West London, East London & South East London
Call now on Tel: 020 7476 2153 or Mob: 07889 272430
95%
 of the emergency callouts we fix 
within an hour
Emergency Electrician East London
Electricians are available for maintenance and repairs 24 Hours a day, seven days a week, throughout London. For all 24 hour and emergency call outs. This service is available to all Commercial, Domestic and industrial customers. We maintain low fees for this service.
Emergency Electrician North London
Al-Amin Electrical Services are NICEIC approved electricians. We can provide complete maintenance service and emergency call out service,to suit all of your business requirements. We can repair your electrical faults efficiently. We are available for emergency call out 24 hours a day 7 days a week, if you require an emergency electrician to carry out repairs and fault finding in London.
24 Hour Electrician South London
AI-Amin your personal electrical is at your service 24 x 7. You can face an electrical problem in the middle of the night and in the early morning. We understand that you don't have the expertise to fix those problems and you shouldn't. You should always get in touch with a reliable electrical service who are highly efficient and professional.
24 Hour Emergency Electrician West London
The best part about us is that we will be right at your doorstep no matter when you need us and where you are located. That's what we strive to do and that's why we are here for! Electric repair can become really tricky, even though there are some DIY videos available online but every electrical repairing asks for different sets of expertise and that's why you should always call a professional and not try to do it on your own.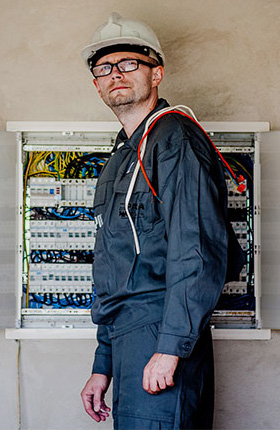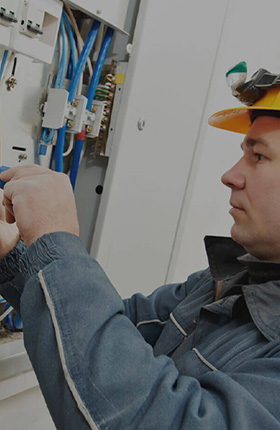 Top-Rated Emergency Response Electrician
First reason for getting in touch with an emergency electrician in the middle of the night is to be safe. Your safety and your family's safety should always be your first priority. Trying to fix dangerous electrical problems on your own can get you into problems especially when it's completely dark, you don't know which wires you are fixing, whether what you are doing is right or wrong. It's already late and you are already struggling in such a hot day, don't try to fix anything which will make you regret, call us!
There are many DIY videos available online, but when the repairing needs an emergency service relying on AI- Amin and calling us for an emergency electrician is a better option. When we have urgent requirement, we often tend to do things in an incorrect way especially because we get frustrated with the problem and want it to get fixed as soon as possible. Don't try to fix your electrical problems out of frustration, this could alter the situation and you may end up paying more. We are a call away and we are serious about our emergency service, our highly efficient team will be at your door step in no time to fix the problems and this will save you money too.
Another reason why you should contact a professional and reliable emergency electrician is to troubleshoot the problems efficiently. Our specialists are highly trained and have years of experience, with their years of experience they will never go wrong in detecting the issue and identifying the adequate and right solution for the problem.
Our team of emergency electricians have gone through many hours of rigorous training to ensure that they are ready for the license. We are a certified company and all our electricians are qualified and have required education and certification to fix any kinds of electrical problems.
Call AI- Amin if you are looking for a peace of mind even during an emergency situation. No matter where you are and what time it is, you can rely on AI- Amin completely. We will bring all the necessary equipment and gears with us and we will solve the electrical problems that you are facing. Only professional electricians will visit you and our charges are affordable too.
You might not be ready for an emergency situation, but we are! Give us a call anytime you want and hire one of our best professionals.
Call now on Tel: 020 7476 2153 or Mob: 07889 272430
Our Emergency Call Out Services
We can provide a lamp replacement service, routine safety electrical inspections, PAT testing, R.C.D. testing and routine servicing of emergency lighting and fire alarm systems.
We can arrange for the safe disposal of any mercury tubes or mercury and sodium lamps.
All certification will be issued upon completion of works and we will notify Building Control as part of our service.
If you would like a free quotation or some technical advice please do not hesitate to contact us.
Our charges for Monday-Friday during business hours are: £120 per hour
For weekend and out of business hours our charge would be £160 per hour.
Emergency call out in the city £140. low fees
Emergency isolation
Emergency generators
Emergency parts
Faulty equipment
Industrial manufacturing
Domestic Faults
Commercial Faults
Fire Alarms
Safety
Breakdowns
Power cuts
Lighting Failure
Dangerous occurrences
Accidents
Reactive maintenance