24 Hour Electrician on hand for all your electrical requirements around your business premises
Call now on Tel: 020 7476 2153 or Mob: 07889 272430
Al-Amin Electrical provides a comprehensive range of commercial electrical services throughout London. Our 2 hour emergency response for businesses is available 24 hours a day, 7 days a week. You will receive a professional service which will minimise any disruption to the smooth running of your business.
Commercial Electrician Services
It's vital for businesses to comply with the numerous laws and regulations regarding electrical installations and electrical equipment in the workplace. Incorrectly installed wiring or equipment, as well as posing a serious danger to your employees, can invalidate your insurance.
We have vast experience in dealing with commercial & industrial electrical installations and we can ensure that you are not only safe, but also are compliant with all the latest laws & regulations.
To ensure work is carried out correctly, you need fully qualified and reliable electricians. If you are looking for a professional, reliable electrical service for your business in the London area, then look no further. Our fully qualified team of electricians can deal with anything from the smallest repair to a complete electrical system design and rewire.
If you need any commercial electrical services in London, remember to get in touch with AI Amin electrical contractor. We know that commercial electrical service is different from domestic electrical service and only a professional understand the laws and regulation standards associated with electrical installations in a commercial building.
We will not just rectify the problem but will ensure that our electrical service is in compliance with the law as well.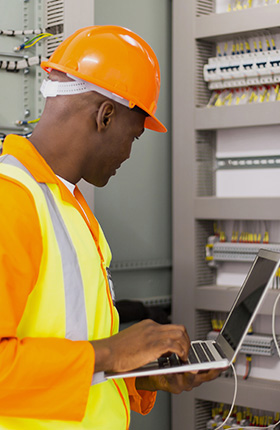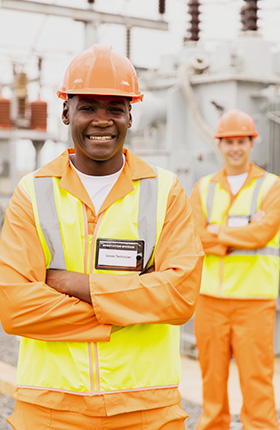 When to call us?
 Does your commercial building has burnt out light bulbs?
All the commercial buildings need to have functioning bulbs and lights. Lights are essentials for any office to complete daily work, but offices too face electrical problems and need fixing from time to time. We will not only visit your commercial space to fix the burnt bulbs but will also check for all the faulty circuits as well as sockets too and will inform you if they need repair too.
Do the lights frequently flicker or dim?
If the lights in the office frequently flicker, give us a call right away. You might have tried changing the bulb at times but if the problem still persists then you should call AI Amin immediately because flickering lights could be a signal of a bigger problem. Flickering lights and bulbs also increase the utility bill, hence don't take it lightly and call us.
Does your commercial space has dead outlets?
If your office is having the above-mentioned problem then you should right away get in touch with a licensed electrician and let them check the underlying issue. Commercial space needs a proper supply of electricity to ensure that it is not affecting your productivity. Call and let us see if the office has dead outlets due to the poor circuit or build-up heat.
Do you think your office premise has unprotected wiring?
All commercial spaces should be well equipped with protective wiring. Building regulations have strict laws regarding where and how the wiring of a premise should be done. It is about human's safety and hence every commercial building should have protected wiring only.
Do you think your commercial building has a wrong wire length?
The wrong wire length can have a huge impact on all the electronic devices that your company has. As per building regulations, there has to be a certain length of wiring length too, ensuring that it protects the building from faulty wiring and prevailing dangers. 6-inch wiring is a standard and if your commercial building doesn't have that wiring length then you should call us right away to fix the problem.
Does your commercial space has a loose connection?
If the sockets of your building are heating up pretty quickly then there could be a problem of loose connection. Loose connections have to be fixed as soon as possible because they can trip the complete electrical system and cause a fire outbreak as well. We are a trained and licensed company and we will make sure that every connection is safe and tight and will fix the problems right away.
Call us if there is a faulty installation
If there is faulty installation of air conditioning, heaters, and other equipment in your commercial building then give us a call right away. A faulty installation is dangerous and can lead to a fire outbreak. Let us check the root cause of the problem and solve it immediately. Your life is precious to us and we will make sure that every connection is fixed.
Rely on AI Amin for any kinds of commercial building electrical problems. You can ring us at 0207 476 2153 or drop in a mail at info@al-aminelectrical.co.uk. Trust us and our years of experience. Our highly professional team will protect you and your family and solve the issue within just a few hours. No matter where you are located in London, we will be at your service.
Your Local Commercial Electrical Contractors
For all your electrical services call us on 078 8927 2430
We are always happy to talk through your project and advise on any electrical problems.
Wiring-in of plant and machinery

Day to day maintenance and repairs

Mains change and up-grades
Portable Appliance Testing

Detailed Periodic Inspection & Test Reports

Disabled Adaption Installations
Additional wall and floor mounted sockets

Additional lighting points for walls or ceilings
Lighting design service available

Time clock circuits, lighting and power etc

Over door, down flow heaters

Insurance work carried out

Emergency lighting installations